For more information, please contact us:
(847)329-9847
or
nyef@springmail.com
Types of gifts

f = funds and other donations for the NYEF endowment fund

c = computer equipment/educational resource donations

l = logistical/material/technical-support donations

Sue Amondson – c
Marta Archer – c
Argonne National Laboratory – l
AXA Advisors – c
Ken & Carol Baker – c
Art Beck – c
Jennifer Bellis - c
Jane Bentham - c
Nan Brooks - c+l
Judy Carlsen - c
Janet Carson – f

The Carson Scholarship Award
Chicago Kayak, Inc. - f
Lisa & Stan Clary - c
Lois Combs and Company - c
Cornell University – c
Collette Coullard - c
The Denton Program, U. S. A.I.D.– l
David DeWitt – c
Dr. Marshall Dickholtz, Sr. – c
Steven Dinneen – l
Jeff Emans - c
Herb Erlbach – c+l
Shirley Egashira – f
Genevieve Ferraro – c
Margaret Fong/Alan Bloom - c
Ford Foundation – f
Peter Gann – c
John P. Greene – c
Sandy Griggs – c
Christine Grinslade - f
Michael N. Hayashi - l
Howard Hieshima - c
Mary & Edward Heininger – f
Janet W. Heist – f
Hewitt & Associates - c
Connie & Mitchell Hill – f
Dina Hulkower - c
Frank Hussey - l+c
JEMA - c
Julia & Randolph Jenks – f
Kathy Johnson - c
Alan Kamiya – l
Mark Kamiya – l
Norma & Glen Kanwit - f
Keller Graduate School – c
Kendall College – c
Laurie Keenan – c
Pamela Kerr - c
Joyce Knauff – c
Kohl Children's Museum - c
Jared & Megan Korte - c
Barbara Kruse/Tim Read – c
Andrew Krzak

Sarah Langridge – c
Lawrence Hall Youth Services –c
Christopher Lutz – f
Lutz Family Center - c
John Lowenstein - c
Marty & Shari Lucas - c
MacCormac College –c
Richard Mandich - l
Marc Matayoshi - l
Lisa McCormick - l
Bill McFadden – c
Mark Mroziak – c+l
David Myhre – f
Susan Nam - c
William K. Nash – c
Karen Neumann - c
New England Biolabs Foundation - f
Leda D. Oness – f
Haruko & Chico Oshiro - c
Leslie Oshiro - c
Jan Peterson – c
Patrice Petry – c
Mary Lou Powell – c
Dr. Herbert W. Preiser – c
Primark International – c+l
Sam Pudi - l
Mari & Faisal Razzaq - c
Saint Francis Xavier School – c
Rachel Safman – f
Richard Sato - c+l
Hiro Satoh - l+c
Edan Schwarcz
Marge & Sam Shimasaki – f
Meribeth Smart – c
Cam Smith - c
Marguerite Solari/Dan Acuna - c
Jacqueline Steffens - c
Bill Stewart – c
Seiko Tasaki - f
Jim & Gail Tatsuda – c
Ethel Untermyer – f: The Untermyer Scholarship Award
Linda Whitted – f
Beth Wrobel - l
Emi Yamauchi - f: The Emi Yamauchi Scholarship Award
Thomas & Kimii Yamauchi – f: The Yamauchi Scholarship Award
Kaneez Zaidi
Charter One Bank – l
Shigeiru – f
Back to the Top
Friends of the Nagata-Yamauchi Educational Fund
From its informal beginnings in 1994 to the present day, the NYEF has been fortunate to have the support of many people who believe in its mission and who have faith in its personnel. As we tell all of our grantees, the NYEF would not exist, and much less could it distribute any assistance, without the generosity and vision of its Friends.
Listed to the left are our Friends who, as indicated, have donated funds, computer equipment, and logistical support/materials from 1995 through March 2006. Individual and institutional Friends whose names are in bold type have given gifts worth a total of $2,000 to $5000. Friends whose names are in bold type and italics have donated gifts worth $5000 or more. Some of them have a Global Challenge Scholarship permanently named in their honor, as explained in our web page Be A Friend of the NYEF.
---
"Education for a Better World"
Promoting the use of knowledge and computer technology to improve the human condition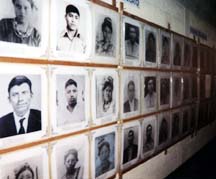 The " Museo Comunitario Rabinal Achi" founded by ADIVIMA in Rabinal, Baja Verapaz, Guatemala, helps educate the public about the local history, much of it pretaining to the government-sponsored massacres during the 1980s. Pictured here are some of the hundreds of photos of victims housed in the museum as a memorial so that such violence never happens again. The NYEF is committed to supporting ADIVIMA in its efforts to improve the human condition in Guatemala.